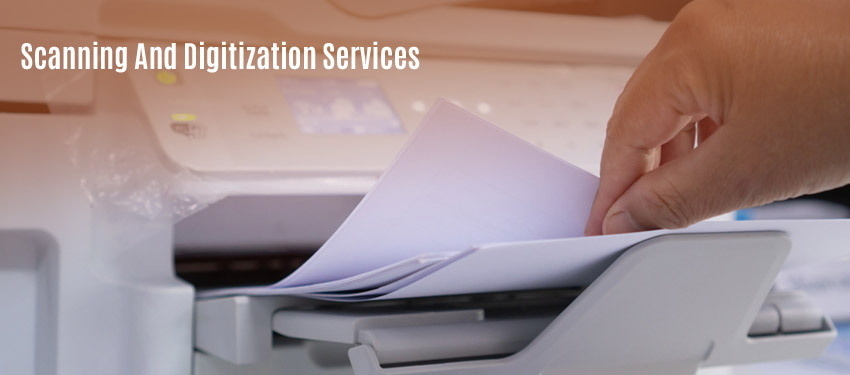 Document Scanning and Digitization Services India
Scanning And Digitization service: A sovereign line of business manifest that document digitizing services has become the ceaseless demand for the organizations who wanted to show their clear-cut victory in their marketing business world. The most imperative fact which we have to keep in mind is that what is the need for document digitizing, why is it essential, notably for the corporate world.
The conversion of paper documents into digital formats is known as document conversion. Any type of documents can be converted using scanning and digitizing services. By changing over your reports into digital formats, you can annals your reports and all these services associated with the conversion of texts, images, audio, video, business cards,CD, tape, or Zip disk, books, periodicals to newspapers, are described as Document Digitizing.
By using data sharing mediums like Internet, FTP, VPN, and Telnet digitized documents can be shared with anyone regardless of the geographical location and places.
With the impressive increase in categories of data and multiple types of formats, integration and sharing of data across systems have become a significant work. SPGS is the right place for your scanning and digitizing service needs which you can't afford to miss. In this ingenious world this process comprises of delicate balancing which they need to move the data between systems. SPGS tackle the above concern in a clear-cut way with unequivocal solutions.
Be competitive and outsource document digitizing to SPGS
SPGS is a spiraling potential service provider for scanning and document digitizing services. The competent and experienced team takes the responsibility of fulfilling your business needs with high-end infrastructure and most modern technology to satisfy global clients with astute quality services ahead of the given schedule. SPGS teams identifies the client's requirements and capture their needs with great effort using advanced scanning and digitizing services, the data collected from the clients are maintained and aligned in such a way that all minute details are captured and included in the final output. The processed documents/images are then changed into text files by using an innovative technology called Optical Character Recognition (OCR). The finalized document is again verified and corrected by the internal audit team providing first-rate quality for the customers. All the documents are given a detailed file name and then saved so that they can be obtained whenever there is a need for it. Sorting of files are done according to the demands of customers. SPGS works for their clients with great passion that we maintain the flow with your needs.
SPGS is a pioneer in digitization of books, manuscripts, medical records as well as newspapers. Our team uses impeccable techniques for scanning and digitizing services so that even the old scripts can be replicated and can be saved into digital format that saves a substantial amount of time. We assure our customers that your works are safe in our hands.
Take a look at SPGS
Data security
SPGS follows the global standards providing optimized outputs. As the business world move rapidly with the fuel of technology, systemic risks increases abruptly but we provide tight data security and follows strong ethics throughout our journey with customers. Our products and services are ethical and secure by design.
Accessibility and efficient management
SPGS have well experienced and trained team to run the process efficiently without any failure, each step of scanning and digitizing services are divided among our team members and thus a precised quality product is guaranteed along with smart technological skills. Data is again verified by internal audit team and ensures quality level.
24/7 delivery
SPGS is at your service 24/7 offering any kind of help regarding data scanning and digitizing services. We maintain regular contacts with the clients through different mediums. The processed data is delivered to the customers according to their preferred medium. The punctuality in our works ensures that data is delivered before the scheduled time and we are ready to clarify any doubts or corrections even after the delivery.
Flexible price structure
The benefits of outsourcing documents to SPGS are affordable cost, enhanced quality, and professional service. Our flexible price structure is based on the service we are providing such as the volume of work, completion time, skill requirements and project complexity, by analyzing all these we fix the price for our work.
The perception of digitization comes as an amiable alternative SPGS is the best choice for your data scanning and digitization services.