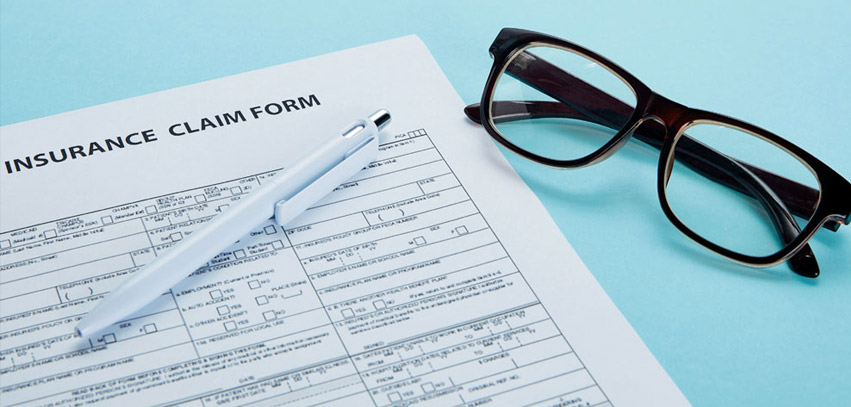 Outsource Insurance Claims Processing Services in India
The headaches of dealing with car accidents, house damages, personal injuries, healthcare bills etc., are prolific. So, when one of these forlorn events occur, insurance claim process helps in alleviating these headaches as much as possible. Insurance claim processing involves multiple administrative and customer service layers that comprises of review, investigation, remittance or denial of claims. Insurance claim processing provides a wide range of customized solutions for all kinds of insurance claims examining, insurance application processing, validation and verification of claims, customer service management, check processing and other related services.
When you face a loss or disaster or undergone a medical treatment, a claim is made from your end on an insurance policy by which you are apprising the insurance firm about the events occurred and is claiming for compensation. Policy holder must provide all relevant proofs of your loss to make the claim. Now the payor has to validate the proof provided by policy holder, process the data and settle the claim swiftly in order to maintain high customer satisfaction level.
Insurance and financial firms receive voluminous claim forms daily that are filled with crucial data of multiple formats and languages. These claims must be effectually and promptly processed to enhance business processes and productivity.
SPGS use modern and advanced technology to deliver accurate and top-notch insurance claim processing services to global clients within short turnaround time. Our abilities ensure you a world class service at a fruitful price. Our primary focus is to understand client's unique business requirements and create a customized solution.
Insurance firms want swift settlement of claims that would help them strengthen their customer relationship and business reputation, but they are dismayed with the fact of dealing numerous claims received from policy holders and healthcare providers within stipulated time frames. Outsourcing insurance claim processing services to a skilled vendor like SPGS can help you save cost, time and amend company's bottom line.
SPGS helps your firm allay document management costs obligatory to maintain immense amount of claim forms. Our insurance claim processing services enable organizations to store, manage, access and retrieve vital data on time, thus diminishing their administrative headaches and streamline business process, helping them gain competitive edge in insurance market.
When leveraging our insurance claim processing services, you get access to our proficient team that help you manage the whole claim processing procedure, from digitizing, validating, verifying, and processing to organization of vital data in client required digital formats.
An effectual claim handling procedure is what matters most to your insureds. It's the reason they acquire insurance. The perfect tackling of bulk claims determines your firm's reputation and that is one reason why several insurance company across the globe trust SPGS. We own qualified, experienced and talented professionals available 24/7, to serve insurance firms across the globe.
Different forms processed by SPGS are:
HCFA Processing – HCFA1500
UB92/Uniform Billing/HCFA1450
Motor Insurance claim processing
Home Insurance — Building and Content
Commercial Fleet
Commercial Property
Workers Compensation
Compulsory Third Party/Bodily Injury
Life insurance processing
Mortgage claim processing
Insurance Claim Adjuster
Insurance Claim Settlement
Long-Term Care Insurance
Disability Insurance
Health insurance Hospitalization claim forms
Dismemberment
Death claim
Dental insurance
Critical illness
Uniform Billing health insurance claim (UB) forms
Dismemberment Claim forms processing
SPGS's insurance claim processing workflow is stated below:
Defining the work scope: Our assigned professionals will work closely with your team member to gain a thorough insights about your business scope. This stage focuses on client's business needs and appropriate methods to be executed for insurance claim processing.
Analysing the document: Insurance documents irrespective of size and volume are received as scanned copy, Fax, PDF format, spread sheets or native format from the client's end through secured network. Our data entry experts collect and analyse the documents and necessary modification are done to make it error-free for processing.
Claim processing: The type of claim forms is identified using in-house techniques or barcode and the claim documents are digitized. Client relevant data are captured from the claim forms that include customer filled information, barcode etc. Once the capturing of data is done, the documents are verified and validated to check accuracy of captured data and then gone for processing the claim.
Quality assurance: This is the most important phase in any service workflow. Hight quality and accuracy must be maintained throughout the process. Our quality assurance team conducts regular analysis of the previously performed task and strictly examine the processed data for the rectification of fallacies (if any) for utmost accuracy in the final deliverables. We seamlessly process vital information from the claim documents and is converted into easily accessible client preferred formats.
Delivery of output: The final outcome after necessary modification is created according to client's required format and delivered at a prompt pace. Keeping the privacy and security of crucial business documents in mind, SPGS use secured medium such as FTP for data sharing. We own trained and expert security team to protect your data from malicious attacks and ensure utmost confidentiality. Your trust is our prime concern and we've put into place a variety of systems to safeguard your information.
Insurance companies are overwhelmed with large number of massive documents that is needed to be organized and managed efficiently by proficient team. Performing this tedious task in-house can be expensive and time consuming, deviating executive focus from core business tasks.
SPGS has been in the industry for 15 years gaining appreciations from several global companies for quality, TAT and accuracy of the service delivered, thus making us a preferred choice for insurance claims processing services. We own professional with experience and in-depth knowledge in claims administration business and can help you turn-around huge volumes of projects swiftly without compromising on quality and accuracy.
SPGS ADVANTAGES:
Our prime priority is client satisfaction. By leveraging SPGS's insurance claim processing services, we make sure that we provide prompt and accurate services to amend your bottom line.
1) Data quality
We offer customized services at a best price structure meeting all your strategic goals without affecting TAT, quality and accuracy. We strictly adhere to data quality standards and ensures the delivery of final output with impeccable accuracy and quality. Our team ensures that all the input and output information are unified at a single point, so that it can be reliable and can bring the best decisions to keep up the best services.
2) Experienced team
SPGS has the foremost experienced team. They use their skills in a productive manner to solve complex tasks with innovative ideas and assist other members to complete the project according to client's requirement.
3) Domain experts
SPGS deals with both engineering and non-engineering domain projects. Each project received from clients is delivered to the respective domain experts who yield best output that lead to maximum satisfaction of the clients. SPGS is entitled as domain experts in every field they work.
4) Data security
SPGS is ISO 27001 certified and follows stringent rules for data security assuring high level of data security to its clients. It is supported by software, machines and human skills. The machines and software are checked and their results are monitored on a timely basis to ensure there is no threat to data. Unauthorized access to office premises is strictly prohibited. We even sign NDA contract with the client before outsourcing of any product or service.
5) Up-to-date technology
To serve our client with data mining result as per their needs, we make sure that the most up-to-date and exceptional approach is used for faster and accurate delivery of final results.
With an objective to respond to customer's queries promptly and on time, insurance firms seek for SPGS's high quality and accurate services. We deliver top-notch services at reduced costs. Catering to customized solutions, we provide insurance claims processing services that is tailored to meet client's specific needs.