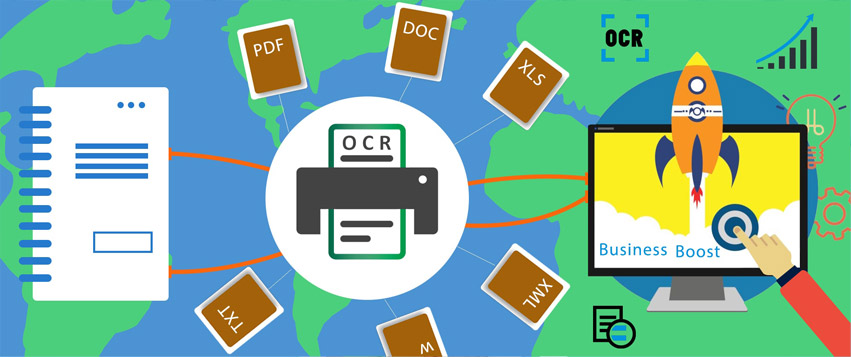 Outsource Optical Character Recognition Services
OCR processing services has been a great virtue for organizations that deal with enormous volume of paper documents on regular basis. Paper documents not only consumes huge storage space but also time consuming when it comes to organizing and managing bulky unstructured documents.
OCR process eradicates manual data entry, thus optimizing time efficiency and storage space. Accessing and retrieval of specific information has become much easier with OCR processing services.
Having trouble in managing and retrieving business-critical data, SPGS is happy to help you. Gain competitive edge by leveraging our resources and expert team at a great price structure.
SPGS is widely known and greatly appreciated by global clients for accuracy, short TAT and quality of services delivered.
Our proficient team understand your specific business needs and work accordingly, ensuring top quality and accuracy of OCR results within swift TAT. Our professionals convert printed files, scanned documents, PDF, digital images into editable and easy-accessible electronic format and delivery the output as per client's format such as: Word, Excel, PDF, HTML etc.
Benefits of our OCR processing services are:
Easy replacement of hardcopies into digital documents and vice versa.
Any documents whether it be scanned, printed or any other formats, prompt creation of e-copy is done.
Using a keyword, crucial information is searched and retrieved from massive amount of document files.
Reduce storage space, time spent on processing and cost.
Being customer-focused company, SPGS employ latest methods to offer highly accurate services to enhance customer satisfaction. If you are in need to process large volume of documents, you can rely on SPGS.
SPGS ADVANTAGES
1) Single point of contact
Our team ensures that all the input and output information are unified at a single point, so that it can be reliable and can bring the best decisions to keep up the best services. We offer our services at the best price structure; our pricing model allows you to keep your costs in control.
2) Experienced team
SPGS has the foremost experienced team. They use their skills in a productive manner to solve complex tasks with innovative ideas and assist other members to complete the project according to client's requirement.
3) Domain experts
SPGS deals with both engineering and non-engineering domain projects. Each project received from clients is delivered to the respective domain experts who yield best output that lead to maximum satisfaction of the clients. SPGS is entitled as domain experts in every field they work.
4) Data security
SPGS is ISO 27001 certified and follows stringent rules for data security assuring high level of data security to its clients. It is supported by software, machines and human skills. The machines and software are checked and their results are monitored on a timely basis to ensure there is no threat to data. Unauthorized access to office premises is strictly prohibited. We even sign NDA contract with the client before outsourcing of any product or service.