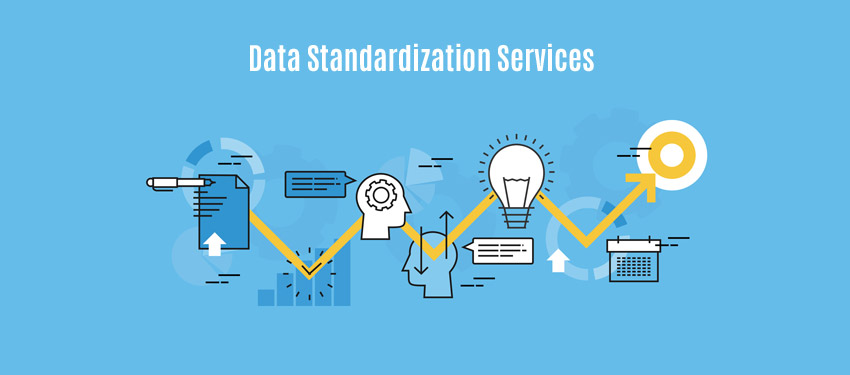 Outsource Data Standardization Services in India
The process of outsourcing plays pivotal role in today's corporate world. So standardization of data has become a convenient source which ensures consistency and asserts dependable output.
The chances of logical or structural data inconsistencies are immense if you have database from live CRM or if the database is created by merging varied small data files. Data standardization experiment to associate the data sets that can be standardized after comprehending the data accepting from multiple sources and in multiple formats. This service demands for impregnable logical mapping and immaculate programming.
The data standardization service India paves a new path through a resourceful approach to ascertain information when you need it and standardize it with smart technological skills.
As a part of the data standardization process the database gets impeccable. The data processing team takes over the colossal process handling, once the standardization process gets delineated. Lucidity of processed data assures that it could be effortlessly inferred by people who are not directly implicated with the process of data maintenance.
Our Data Standardization Service India offers the first-rate assistance with accurate timing and we pursue the global standards to deliver and process these services. The astute and eminently skilled employees of SPGS accept the challenge of maintaining this ponderous process in to an easily conquerable task. Our perceptive technologies empower us to hand over the projects in unequivocal time frame as we never compromise on quantity and quality.
Why outsource data standardization service to SPGS?
SPGS will always support you with exceptional ingenuity and execute meticulous standardization to eradicate any inconsistencies formed while processing the data, and supervise the quality of the final output with precise timing. Our veteran team is prowess at choosing the output terms, phrases, or peculiar attributes within your data set. For example the word 'highlighter' in the data can be written in many ways like 'hi-lighter' or 'hi-liters' , we assist our support to you in standardizing the output of all such terms present in your data. Data Standardization Service India is best in industry for PDF to Doc conversion process. Our professionally qualified team will be using database query for extracting data from databases and skillfully enable the processing and mining of important information from multiple database.
Our team will research and study about individual requirements of our customer while undertaking the data standardization services. Every clients are distinctive therefore our team spends quality time for each one and data is processed according to their unique need without any fail. The assessments of projects are finalized with their demands. We regulate our timing brilliantly so projects are delivered even before the scheduled time and we are ready to give any corrections if needed.
SPGS have internal quality audit team whose duty is to assure that the protocol defined in our quality books are followed by the data standardization team.
Competitive world offers you enough of business process outsourcing companies but only those whose works are really unique will bolster the business and others will only give a competition. Data Standardization service India serves Quality, Data Security, Uncompromising Integrity and passable pricing along with scheduled time delivery. Organizations always needs to leverage its key resources so that only success will lead them, so SPGS offers the clients in offshore with many favorable advantages like they can save their precious  time, expenses and  can enlist themselves in their own core business as each and every works should be trustworthy and highly useful. Customers seems to have belief and confident in their outsourced part when they have SPGS in their client list.
As a part of our data standardization services, SPGS performs:
Accuracy and increased focus on functional areas of the work
Enhanced usability of information
Offers skillful project management
Provides experienced trained professionals along with modern technology
Best of quality and reliable pricing
Total data security
In nutshell, we sketch and map the information from multiple sources and the data undergoes many steps such as combining, merging and segmentation processes which finally appraise the output, thus quintessential form of data is obtained decisively. Our team endeavor for perpetual enhancement and that is the reason why we pledge our treasured customers about the quality of our works.