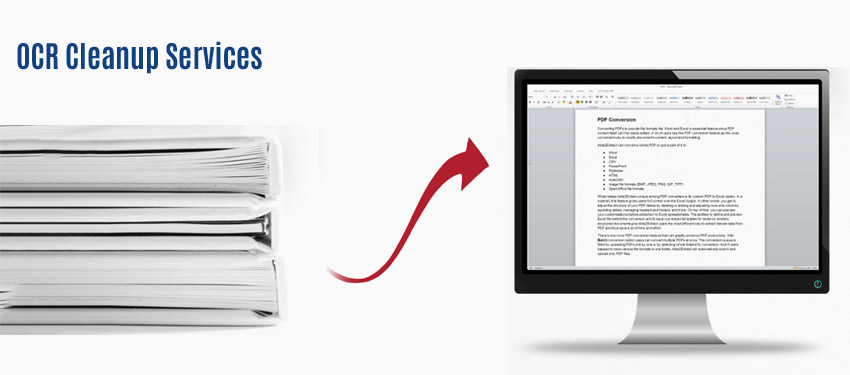 Outsource OCR Cleanup Services in India
OCR Cleanup Services: In today's business world productivity needs the management of the bulk amount of business documents. So there is a great demand for faster data entry, this has propelled the use of optical character recognition (OCR).This is a profoundly specialized process of converting image files into text in ASCII and Unicode formats.Optical Character Recognition is considered as a dominant way of managing and processing of large volumes of data in documents in a short span of time. This process is acutely sensitive and it should be carried out with utmost care. But there are chances of developing errors during OCR process, so OCR cleanup is done to amend those mistakes and acquire precision.
OCR cleanup service requires high resolution scanners and workforce with skills and knowledge of OCR technology. The OCR cleanup is the process by which trained technicians control the quality of the data provided.Outsourcing your OCR cleanup service work will help you to get best quality service results at competitive prices. The documents and your database will be error free. The document scanning and data extraction alone cannot produce definite results. It must be equipped and enhanced with the high levels of service quality and this is where the OCR cleanup takes place.
If you want to get reliable and trusted outsourcing partner to perform OCR clean up service then SPGS is the best choice. We ensure high data security for your documents and provide advanced tools and technology at affordable prices.
Expertise of SPGS in OCR cleanup service
The most fundamental thing to look in a OCR cleanup service is accuracy since this shows how much you can rely upon your results.SPGS offersan exceptionally exact OCR cleanup service which will help you to convert your files into any format that you require.
During OCR cleanup service there are chances of missing out data or characters are misread this may cause errors in the final product. SPGS provides well trained team to rectify those errors and maintain accuracy. Data comparison is carried out between original and captured data simultaneously as this will help in correcting misreading errors that occur during OCR cleanup service.The OCR cleanup process helps you to make your data more usable. We are maintaining strict quality assurance protocols to ensure that our OCR cleanup service process is efficient and desired specifications are fulfilled. We assert the validity of the data by providing 100% accuracy. We have internal audit team and they ensure every misread character and words are corrected and replaced. The OCR cleanup is not just about text alone but it includes verifying and inserting the right content in right place.
Before the files are dispatched, the documents undergo a thorough inspection with the source files in order to make sure that it is error-free. SPGS is known for its accuracy, zero error and quick turnaround time. If you are looking for an outsourcing partner who puts your needs first and ensures passionate working experience while providing definite services, then your search ends here.
Advantages of SPGS
SPGS maintain a consistent workflow by the single point of contact. The project head coordinates all internal activities related to a project and monitors the work of the team members after each stage of the process maintaining the standard level. We take care of the quality and accuracy at its best.
An experienced team is an asset for every organization and our well-trained team is capable of handling large amount work within short span of time.Skilled personnel is an essential need for OCR cleanup service and we are equipped with most modern technology and services.
The talented and experienced team of SPGS is considered as domain experts due to their well organized and auspicious working nature. They have vast knowledge about the work they are handling. SPGS has 13 years of experience in providing efficient and cost-effective data processing services.
Our internal audit team carries out a meticulous inspection of all the files ensuring high accuracy. OCR cleanup service is handled by extremely well-trained technicians. Our team spends extra work hours to complete the work precisely.Our tools give you excellent quality results with high accuracy and precision. Outsource your OCR cleanup services to SPGS to get excellent quality results.