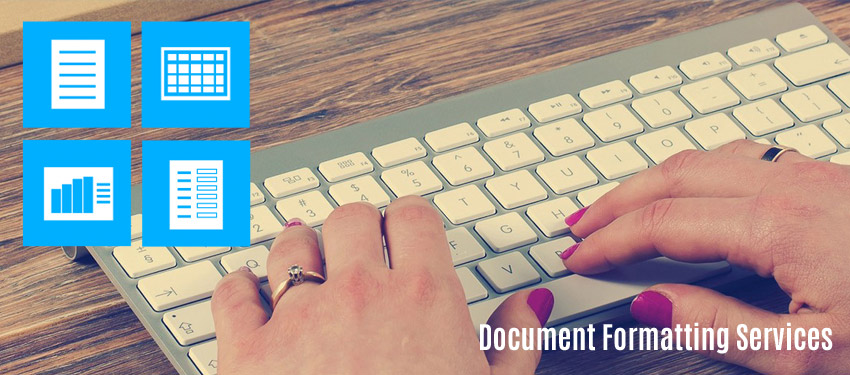 Outsourcing Document Formatting Services in India
Document formatting Service: Formatting of documents has become an essential need for organizations.To have an impact the documents needs to look polished and professional. An eye catching document will draw the reader in, while a boring font will always draw the reader away from all your hard work. When you format a document you are adjusting the settings for the size of your page, margins, and layout of things on the page. It is easy to write a page in Microsoft word but formatting that with clean, consistent text, numbering, bullet points, headings, tables, graphics, headers, contents, tables and references can take a long time. Formatting a word document needs a lot of time and particular effort.
By outsourcing document formatting service you can avail customized word template designed on the basis of your needs, it can save a lot of time and you can spend this valuable time on your core competencies and also can take advantage of professional expertise. The prime objective of document formatting service is to enhance the look of existing word documents so that it can grab the attention of customers and add to your business interests.
Formatting is indispensable for the readers to digest the information without distractions. But formatting is challenging and even harder to master if you are not a professional, so SPGS is the best solution for your document formatting service needs. SPGS have professionally qualified and multi-talented team to meet your specific requirements and give your document the impeccable professional finish, at a very competitive price.
Expertise of SPGS in Document Formatting Services
SPGS serves customized document formatting services to suit the unique requirements of every customer.
We will create hyperlinked table of contents, list of figures and list of tables and all these will be implemented in a perfectly aligned format according to the need of our customer.
We will create cover sheet, complete with subject title, logo, author name and any additional information.
We will make it consistent with matching page layout, margins, headers, footers, landscape pages and columns.
We will set the margins, breaks, columns, headers, footers, orientation and page numbering.
Every table and figure will be styled as a matching set; all tables will be padded, shaded and styled consistently.
We offer unlimited revisions, once your formatted document is delivered; you may decide the required revisions. We will complete these revisions accurately.
A perfectly formatted document, in fully editable Microsoft Word format, will be delivered to you.
By using document formatting service the document will have consistency and it will be helpful during the searching of particular data.We will consult with our customers and make recommendations to organize the information effectively. No matter what the volume of documents you have for formatting we are always at your service with a well-trained team as they can handle the bulk amount of documents. SPGS is known for its quality service and we never compromise on that aspect.
Advantages of SPGS
Data integrity
SPGS assure the integrity of data throughout its project cycle by maintaining accuracy and consistency. We maintain data integrity by protecting your data from accidental or intentional modifications, falsification, and deletion.
No capital investment for our clients
SPGS offer document formatting services at a competitive price.We never ask for capital investments from our clients and our pricing is based on the amount of work, the time we spend and complexity of the work. We are popular among our customers due to the service quality and reliable price.
NDA
By signing NDA your sensitive information is secured as we follow strict rules and regulations. SPGS always make sure that your details are kept confidential throughout our project cycle and even after that. We are very careful about the quality and confidentiality of your data. We maintain data security through multiple measures.
Ability to process high volume of data
Our team has the ability to process the bulk amount of data within the scheduled time. We process and deliver the required data in a fast and accurate method. Work is divided among the team members and we spend extra work hours to finish the work properly. So we are ready to accept the bulk amount of data for processing.
Good formatting is important because people like consistency. SPGS is the best solution for your data formatting service needs because our work makes your work look good.