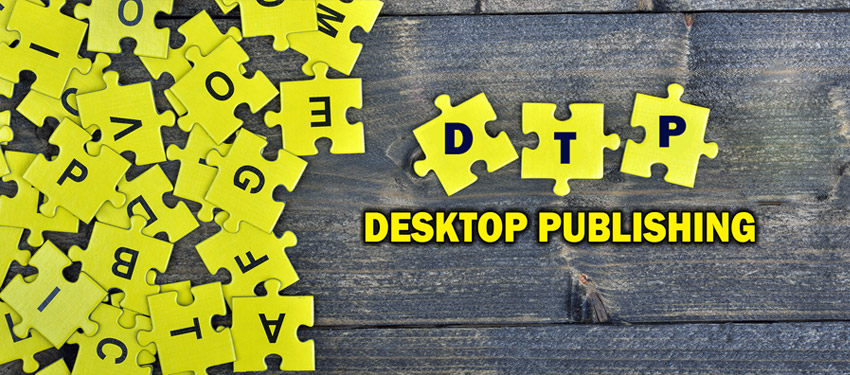 Multilingual DTP Services - Desktop Publishing Services India
Desktop publishing or DTP services can be defined as the formation of documents by using appropriate page layout techniques. The combination of a personal computer and page layout software for the creation and publication of documents for the colossal amount of data for large- scale or small-scale distribution is called DTP services. Translation of PDF, booklets, manuals or any other type of documents with multiple formats, images or a set layout can be fulfilled using DTP services.
SPGS is bestowed with a substantial amount of highly skilled and trained DTP specialists, graphic designers, desktop publishers, proofreaders and quality controllers in which each team members are well-versed with advanced technology which helps to convert the data specifically and accurately. Our team works on projects of any format, any size or any platform as DTP services have become a decisive factor in-digitized the world.
The disadvantage of Desktop publishing is that just because someone operates page layout software doesn't mean that the person is a good designer. It is very less expensive and easier to generate a design with low quality. So it is really important that knowledge in basic principles of graphic design and desktop publishing techniques are finest. SPGS offers optimized use of the professionally qualified team to process your work on your needs.
Multilingual DTP services in India: Why you should prefer SPGS?
SPGS is a premier Desktop Publishing company which provides all services of processing and delivering DTP works to improve all your needs related to publishing. Our team assures that all your manuals, documents, and brochures are specifically arranged and formatted. We ensure all-inclusive Desktop Publishing services and we are ready to accept your data in any software format. The processed documents are evaluated by the internal audit experts to clarify that there is no mistake and then the documents are ready for delivery.
SPGS core DTP services include:
Formatting of text.
Typesetting and desktop publishing services.
Designing of layouts
Editing and generation of technical copy.
Multilingual desktop publishing.
SPGS maintain consistent workflow, as the customer uploads their documents into a highly secured FTP server our well-trained team downloads the files and checks the requirements. Works are divided among the team members to ensure the stability and once the entire work is completed our internal audit team conducts a quality check and this version of the file is converted into PDF format and sent to the customer for approval. If the customer demands any specific changes or corrections our team is ready to solve it. Finally, the approved files are uploaded to FTP for the customer to download it securely.
Each member of our team has an average experience of 3 years.Our team is proficient with Adobe In-design, Corel Draw, Quark Xpress and other electronic publishing technologies which help in DTP services.
Advantages of outsourcing your DTP services to SGPS
The integrity of data has become a crucial factor over the past few years and as a result data. integrity is the core focus of many organizations. SPGS provides legible data which ensures that there is no loss of quality and error- free. We maintain backup and recovery procedures.
Ability to process high volume of data
Our team is well equipped to process bulk amount of data with modern software technologies. We process and deliver the data in a quick turn-around time.Work is divided among the team members so even large amount of data can be processed according to the need of customer.
Dedicated team for major projects
SPGS values our customers with dedicated works. Our special team will be responsible for important projects which require special care and attention. There will be project head to supervise all the work assigned to the team members and always makes sure that works are completed within the time interval. After completing the entire process, it is verified by the internal audit team.
No capital investment for our clients.
SPGS does not ask for capital investments'. Our pricing is based on the amount of data and time consumed for processing the files. We offer highly competitive and good discounts on bulk volume projects.We are ready to work on corrections even after the delivery and we do not charge additional price for that. SPGS is a reliable path for your needs at low cost and high quality DTP services.